When the acapella-filled harmonies of "Pitch Perfect" first hit the theaters in 2012, few could have predicted the massive phenomenon it would become. With its lovable characters, catchy performances, and quintessential college competition drama, the Pitch Perfect series has entranced audiences worldwide. But how should newcomers and die-hard fans alike experience the series? Let's pitch you the perfect order.
All Pitch Perfect Movies in Order of Release Date
Pitch Perfect – October 5, 2012
Pitch Perfect 2 – May 15, 2015
Pitch Perfect 3 – December 22, 2017
Pitch Perfect: Bumper in Berlin – November 23, 2022
1

'Pitch Perfect' (2012)
The Underdogs of Barden University
Barden College, a seemingly typical institution, houses an ensemble of unlikely heroines — The Barden Bellas. Amidst lecture halls and dorm rooms, this all-women a cappella group battles more than just their college coursework; they grapple with a tarnished reputation stemming from an unfortunate incident where their group leader ends a performance in the most disheartening (and nauseating) way possible.
Pitch Perfect: A Symphonic Blend of Laughter and Music
Directed with finesse by Jason Moore and penned by the brilliant Kay Cannon, "Pitch Perfect" is an adaptation of Mickey Rapkin's non-fiction tome, Pitch Perfect: The Quest for Collegiate a Capella Glory. The narrative unfolds as Beca (played by the inimitable Anna Kendrick), a passionate yet somewhat aloof music enthusiast, starts her academic journey at Barden. Contrary to her aspirations, she finds herself roped into joining the college's all-female a cappella squad, The Barden Bellas, thanks to the persistent recruitment efforts of Aubrey (portrayed by Anna Camp).
Following an unforgettable performance debacle, led by group head Aubrey's unexpected bout of stage sickness, the Bellas find their reputation in shambles. Yet, their collective spirit remains undeterred, aiming to reclaim their status in the competitive world of collegiate singing.
A Journey of Self-Discovery and Harmonious Resilience
Pitch Perfect delves deeper than just melodious voices and college competitions. It presents a tale of young women, each distinct in personality and background, coming together to find unity in diversity. Anna Kendrick's Beca Mitchell, initially an unwilling participant at Barden University, is a classic misfit. She's neither a mean girl nor a sweet girl but is coaxed into a group of unique personalities, the common thread being their captivating vocal prowess.
Under Beca's influence, the group undergoes a transformative journey. Breaking away from the constraints of conventional tunes and standard harmonies, the Bellas embrace an innovative approach—melding different songs to create harmonious mash-ups. This evolution is not just musical; it's also personal. The members confront their individual insecurities, prejudices, and fears, emerging stronger as a unit.
Featuring a stellar ensemble cast, including Anna Camp (The Help), Brittany Snow (Hairspray), and the comedic genius Rebel Wilson (Bridesmaids), Pitch Perfect strikes a chord with its viewers. It's not merely a comedic spectacle; it's a testament to the power of collaboration, resilience, and the magic that unfolds when diverse voices come together in perfect harmony.
2

'Pitch Perfect 2' (2015)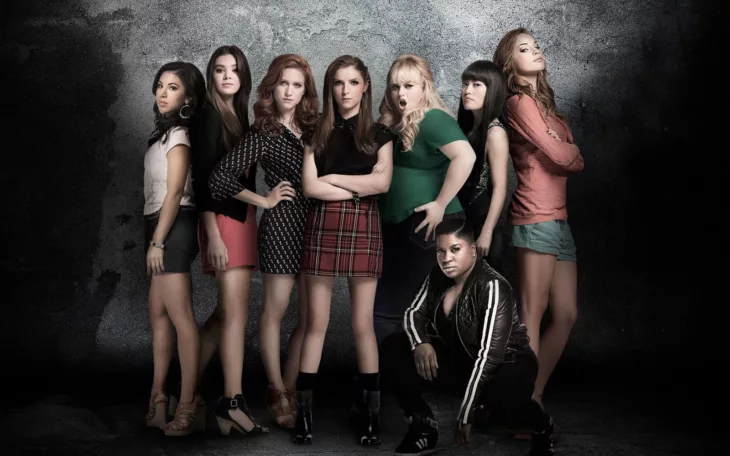 Climbing to New Heights
From the echoing halls of Barden University to the world stage, the Barden Bellas make a resounding return in "Pitch Perfect 2". The sequel, directed with panache by Elizabeth Banks – who also plays the witty commentator, Gail – takes the audience on a whirlwind tour of the Bellas' journey three years after the events of the first film. Now led by the duo of Beca (Anna Kendrick) and Chloe (Brittany Snow), the Bellas have not only cemented their legacy in Barden but have also secured three consecutive ICCA National Championships to their name.
The Downfall and the Pursuit of Redemption
High on their achievements and recognized for their musical prowess, the Bellas are entrusted with the honor of performing at the Kennedy Center for a special occasion – President Barack Obama's birthday. However, in a twist of fate, the ever-unpredictable Patricia "Fat Amy" Hobart (Rebel Wilson) encounters an unforeseen wardrobe malfunction. This incident doesn't just bring their performance to a grinding halt but also taints their reputation, leading to a ban from further competitions.
In a world where the Bellas were once revered, they now face mockery and disdain. But all is not lost. Demonstrating her leadership prowess, Beca strikes a deal, offering the Bellas a lifeline: A chance to reclaim their honor by competing in the World A Capella Championships in Europe – a title that has always eluded American teams.
Confronting New Challenges and Old Demons
As the Bellas embark on this new journey, they are not just up against formidable opponents like the German supergroup "Das Sound Machine" but also their own internal conflicts and insecurities. The road to redemption is riddled with trials, with the Bellas grappling with team dynamics, evolving friendships, and the immense pressure of an international platform.
Yet, "Pitch Perfect 2" is not just about the competition. It's about the resilience of a group of young women, their unyielding spirit, and the ties that bind them together. It's a celebration of sisterhood, determination, and the relentless pursuit of excellence, even when the odds are stacked against them.
As the Bellas set out to prove their mettle on the global stage, they remind the world and themselves of their true essence: That they are not just a group but a family. A family that sings together, laughs together, and no matter the circumstances, always has each other's backs. In this harmonious sequel, the Bellas aim to pitch slap adversity and resonate their legacy across the world.
3

'Pitch Perfect 3' (2017)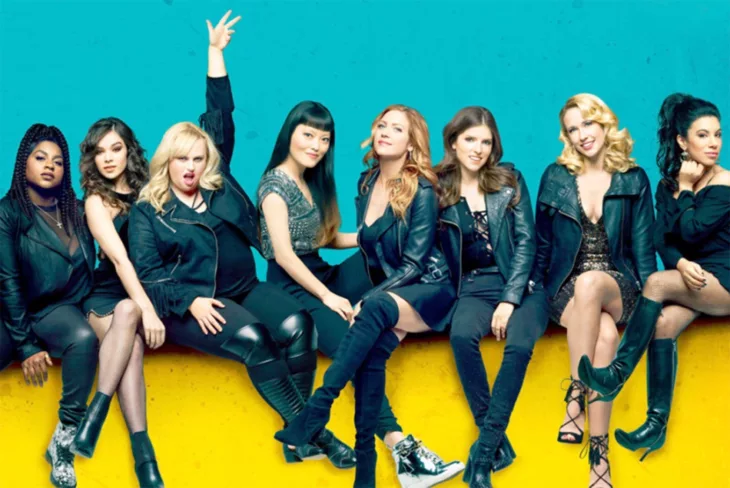 Beyond the Harmonies of College
From the comfortable and challenging halls of Barden University to the unpredictable rhythms of adult life, the Barden Bellas find themselves facing their most personal and profound challenges in "Pitch Perfect 3". The directorial reins were handed over to Trish Sie, with the script penned by Mike White and Kay Cannon, presenting a film that resonates on a deeply personal level, diving deep into life's transitions and the importance of holding onto one's roots.
The Harmony of Reunion Amidst Discord
Set two years after the whirlwind events of Pitch Perfect 2, our beloved Bellas are now navigating the often rough waters of adulthood. The euphoria of collegiate a cappella championships has been replaced with the stark reality of job rejections, mundane routines, and the yearning for the unifying harmonies of their college days. However, a glimmer of hope and nostalgia shines when Aubrey (Anna Camp) pitches an idea – to reunite for the USO tour, a chance for the Bellas to reignite their passion and be in each other's company once more.
Yet, this isn't just any tour. To their surprise, it's not just about a series of performances but a fierce competition against real bands, all eyeing the coveted spot of opening for the internationally renowned DJ Khaled.
Challenges, Crime Lords, and Chords
Adding layers to the narrative, the film introduces Emily (Hailee Steinfeld) as the new torchbearer of the Barden Bellas, embodying the essence of the group's legacy while navigating its future. But as the Bellas are caught in the whirlwind of performances, competitions, and personal dilemmas, an unexpected twist emerges. The ever-spontaneous Fat Amy (Rebel Wilson) is faced with a ghost from her past, her estranged father, Fergus (John Lithgow). More than just familial ties, Fergus' presence brings a web of danger and intrigue as he is revealed to be a notorious crime lord.
A Swansong of Resilience, Friendship, and Music
"Pitch Perfect 3" is more than just an a cappella showdown. It's a testament to the enduring spirit of friendship, the transformative power of music, and the challenges of adulthood. As the Bellas tackle intense competitions, face personal demons, and navigate the complexities of life beyond college, they prove that sometimes, the best way to face the future is by holding onto the melodies of the past. This third installment serves as a heartwarming and pitch-perfect finale to a series that has not only entertained but also inspired countless fans across the globe.
4

'Pitch Perfect: Bumper in Berlin' (2022 – )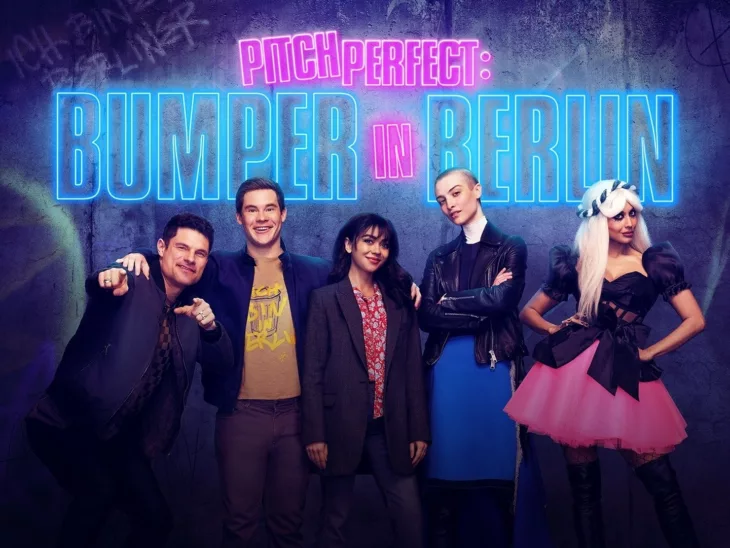 Bumper's Unexpected European Escapade
2022 brought an exciting surprise for "Pitch Perfect" fans as the spotlight shifted from the Barden Bellas to an unexpected star, Bumper Allen. In the spin-off series, "Pitch Perfect: Bumper in Berlin," we witness the ex-Treblemaker venture into an entirely new terrain—Berlin. The series, which premiered on Peacock in November 2022, brings Adam Devine back into his iconic role, adding a fresh twist to the Pitch Perfect narrative.
From Campus Guard to Chart-Topper
Fast forward a decade since we last saw Bumper Allen in his college days, and life seems to have taken an ordinary turn for him. Now a security guard at his alma mater, he finds solace in belting out tunes with the less-fervent a cappella group, the Tonehangers. However, fate has a quirky twist in store for him. A surprise call from an old acquaintance, Pieter (Flula Borg), and a chart-topping song in Berlin gives Bumper the much-needed jolt. With dreams of making it big in the European music scene, Bumper relocates to Berlin.
Berlin: A City of Music, Mischief, and More
As Bumper navigates the vibrant alleys of Berlin, he encounters an eclectic mix of characters. Sarah Hyland and Jameela Jamil add flavor to the ensemble, with hints of romance, competition, and camaraderie interwoven into Bumper's Berlin journey. The series also promises a delightful reunion as Flula Borg reprises his role as Piëter Krämer, providing a nostalgic touch for fans of the franchise.
Crafted by the talented Megan Amram and backed by Elizabeth Banks as an executive producer, the series offers a unique blend of humor, music, and drama, capturing the spirit of Berlin and the essence of "Pitch Perfect."
Looking Forward: What's Next for Bumper?
With whispers of a potential second season, fans are eager to discover the trajectory of Bumper's European adventure. From speculations about Bumper's disqualification from the Olympics due to a peculiar predictive ability, to the evolution of his romance with Heidi, there's much anticipation in the air.
In conclusion, "Pitch Perfect: Bumper in Berlin" is a testament to the versatility of the "Pitch Perfect" universe. It artfully captures Bumper's journey from campus obscurity to potential Berlin stardom, offering viewers a delightful concoction of music, laughter, and drama.